4400mm High Strength Corrugated Paper Making Machine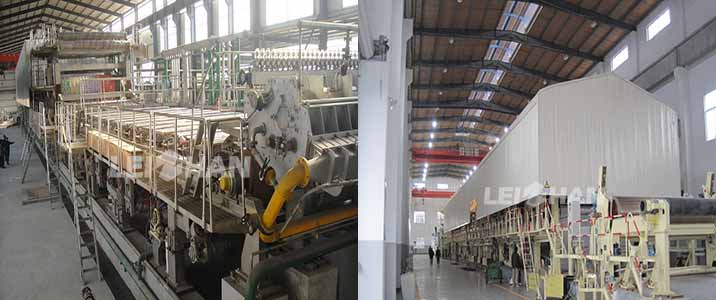 Corrugated Paper machine is practical because of its high quality and high yield. Corrugated paper has the advantages of low cost, light quality, easy processing, high strength, good printing adaptability, easy storage and handling, etc. More than 80% of corrugated paper can be recycled through recycling, relatively environmental protection, use more widely. The whole corrugated paper production line can be provided by Leizhan.
Corrugated Paper Pulp Making Process
Waste paper are conveyed by chain conveyor into the D type hydrapulper for pulping. The pulp into cleaner for sufficiency discharging impurities.
Pressure screen mainly used for coarse and fine screening of various waste paper pulp.
Cleaner used for removing heavy impurities like gravel, scrap iron, dust and large ink particles from different kind of pulp.
Disperser mainly used to disperse the stickies, grease, wax, plastic, rubber and ink particles and other hot melt impurities from the paper pulp.
Disc refiner mainly used for pulping, improving slurry beating degree to meet the paper making needs.
4400mm High Strength Corrugated Paper Making Machine Main Specifications
Paper Grade: High-Strength Corrugated Paper, Paper Liner
Trimmed Width: 4400mm
Basis Weight: 110g/m²
Operating Speed: 300m/min
Production Capacity: 200tpd
Our company has established for more than forty years, experienced technicians, advanced equipment and technology we have would be provided for you as well. If you want to get more information about our products, please contact: paperproductmachine@gmail.com.
Request a quotation