1930mm Crescent Former Tissue Paper Machine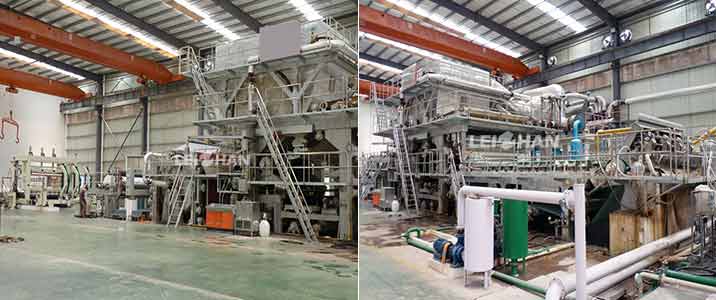 Due to its wide range of uses, there is a great demand for toilet paper. Therefore, it is worth considering a path in the tissue production line. The toilet paper machine provided by Leizhan Company is used to produce toilet paper with a capacity of 25t/d, with good quality and low machine consumption. If you plan to start a pulp and paper project, then our paper machine will be a better choice.
1930mm Crescent Former Tissue Paper Pulp Making Main Equipment
Raw Material: 100%Commodity wood pulp
Vertical Hydrapulper: Used for breaking pulp board, damage paper, waste paper and etc.
High Density Cleaner: Mainly applied to remove all kinds of heavy imputities in paper pulp, like stones, glasses, etc.
Fiber Deflaker: Mainly apply for pulping, which can be used with double disc refiner in series.
Double Disc Refiner: Used for beating and improving the beating degree of pulp to satisfy the paper making demand.
1930mm Crescent Former Tissue Paper Machine Main Parameter
Paper Grade: Wrinkles Tissue, Base Paper, Napkin Base Paper
Raw Material: Hard (sofe) virgin pulp, shavings bamboo pulp, wheat straw pulp de-inking pulp etc.
Paper Grade: Tissue paper
Trimmed Width: 1930mm
Basis Weight:13-25g/m²
Operating Speed: 800m/min
Production Capacity: 25tpd
Tranmission Way: Ac frequency conversion speed regulation partial drive
Our company was founded more than forty years ago. We have enough experimental technicians and sophisticated equipment, and they both ensure a higher quality of our products. And will provide the advanced technology you need. If you are interested, please contact us: paperproductmachine@gmail.com
Request a quotation