Kraft Paper Machine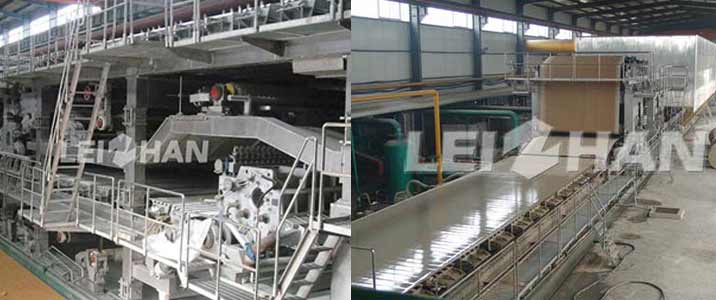 Kraft paper is widely used for packing paper in daily life, so the kraft paper machine is increased necessary in paper industry. Leizhan as a professional manufacturer of paper machine, can provide the different types kraft paper machine for needs.
Kraft Paper Machine Specification
Paper Grade: Kraft Paperboard
Trimmed Width: 1880-5800mm
Basis Weight: 80-220g/m2
Working Speed: 150-800m/min
Production Capacity: 45-750t/d
Kraft Paper Application And Feature
Kraft Paper Application:
Kraft paper is widely used in a variety of packaging supplies, paper bags, handbags kraft paper, color box, gift box kraft paper, printing kraft paper, especially widely used in food packaging. Food packaging need to follow the principle of convenience and portability, kraft paper tensile advantage makes it ideal for packaging needs. In order to prevent consumers taking the food bag was pulled off, the packaging material is required good tensile strength. Beverage packaging materials require a certain degree of anti-moisture deformation to prevent damage by water absorbing and deformation.
Kraft Paper Feature:
1. Kraft paper is flat and clean. No break, wrinkles, holes, sand and so on.
2. Good thermocompression elasticity, high flatness, significantly improve pressing quality and improve the rate of finished products.
3. Heat transfer performance is stable, uniform and no fluctuations, heat transfer rate is moderate.
4. Roll paper end is flat, no more than 2 mill join of per roll.
Request a quotation